Components
CFT consists of the following parts:
Ø chassis
Ø Electronic controlling and processing system
Ø Testing tires
Ø Wetting system
Ø Laptop computer
Ø Towing vehicle
a. chassis
CFT is based on angled testing wheels. The two test wheels, each mounted so that when the measuring position is selected the front of each wheel shall be splayed out to angle of 7.50°± 0.75° (15.00° inclusive angle) relative to the centerline of the CFT. As a result the slip ratio(ratio of skid and free rolling) is 12%, making it equivalent to other friction tester based on slip ratio principle.

b. Electronic controlling and processing system
CFT's electronic controlling and processing system is a complex data sampling and controlling system mounted on chassis. It has several sensors mounted on the chassis, samples side force, environment and pavement temperatures, distance and speed, wetting flow rate, communicates with laptop computer via Ethernet, and adjusts flow rate by an electric valve.
Ø Load cell
Load cell is used to measure side force caused by pavement friction. It's fixed on both sides of the chassis with latches and eliminates extra load.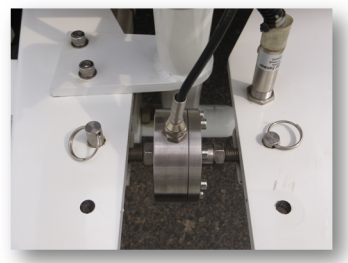 Ø Environment and pavement temperature sensors
The environment temperature sensor is a monolithic Pt100 platinum resistance thermometer operating over -50℃~100℃.
The pavement temperature sensor is a non-contactingInfrared Temperature Sensor.
Ø DMI
CFT utilizes sensitive and high frequency proximity switch.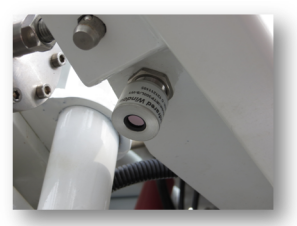 Ø Flowmeter
The flowmeter is mounted on the water outlet of towing vehicle. Enough straight pipes are placed in front of and behind it to obtain precise instaneous flow rate.
c. Testing tires
CFT's testing wheels has special 4.00-8 friction testing tires conforming to ASTM1551. The DMI tire is standard 4.00-8 one.
3. Software
CFT's software is easy to use and multilingual.
Setup screen
Users can change any parameter of software in setup screen, including language, storage directory, display of all kinds of friction and all calibration coefficients. CFT can compare and correct data with SCRIM. Speed and temperature compensation is also available.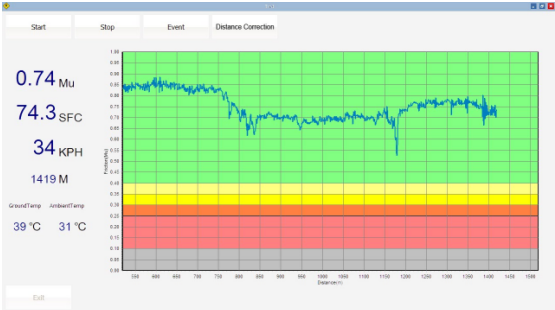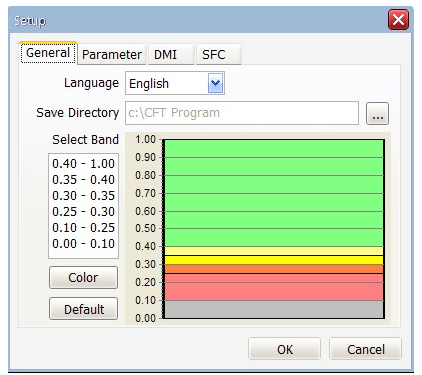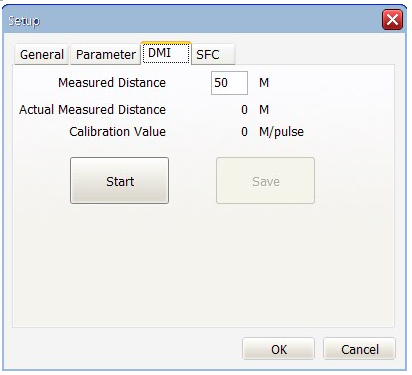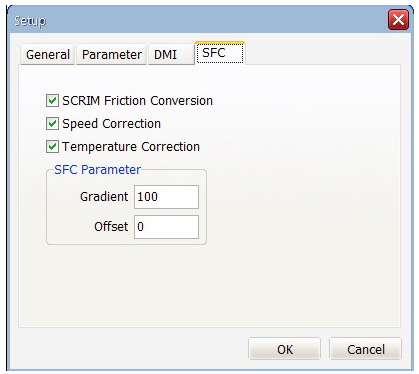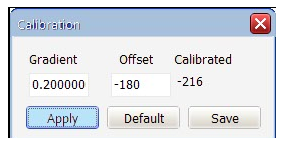 Software samples and displays live speed, friction, distance, pavement temperature, environment temperature and chart of friction and distance, stores data in the laptop computer which could be transferred to desktop computer later.
4.Specification
Ser.

Name

specification

1

Chassis size

Length:1553mm width:960mm height:570mm

2

Towing hitch height

350 ±12 mm

3

Operational weight

254kg
Including ballast, excluding supporting wheel

4

Weight distribution

Left wheel-77.5 ± 1kg at calibrated height

5

Weight distribution

Right wheel-77.5 ± 1kg at calibrated height

6

Angling of testing wheels

Two wheels: 7.5°on each side. Single wheel: 15°on the right

7

Rear wheel

53.5 kg

8

Testing wheel

ASTM 1551E

9

DMI wheel

Standard wheel

10

Tire pressure

Friction testing wheel
0.7 ± 0.035 kg/cm2
DMI wheel 2.1 ± 0.137 kg/cm2

11

Towing speed

Operates over 0-100km/h

12

Testing speed on international runway

65km/h和96km/h

13

Testing speed on Chinese standard pavement

50km/h

14

Working voltage

9-36V DC(matches vehicle 12V or 24V)

15

Electronics

The processor communicates with touch screen, testing computer or laptop computer via Ethernet

16

Accuracy

Average Mu ±0.01 when AutoComp section is longer than 15m

17

DMI accuracy

±0.1% (take tire wear into consideration)

18

Temperature measuring

Infrared temperature sensor for pavement temperature measuring

19

Testing precision

±1%

20

Wetting system(optional)

Automatic or manual wetting control